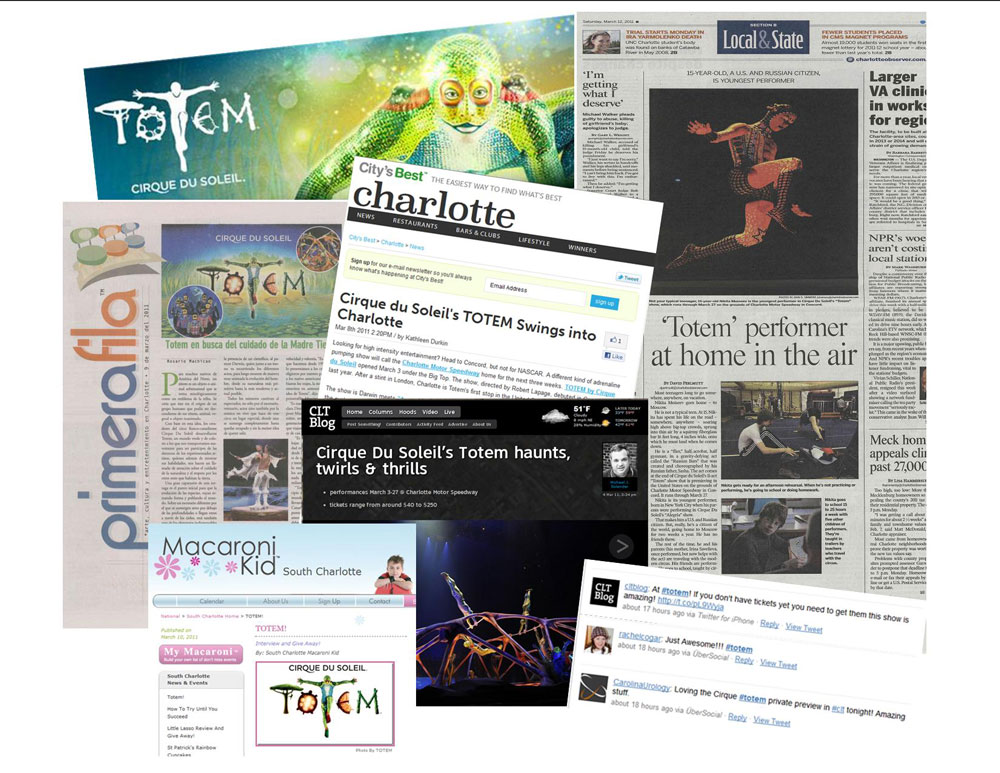 When Cirque du Soleil brought its internationally acclaimed show, Quidam, to Charlotte for a four- to five-week run, they hired Lyerly Agency to get the word out and generate maximum exposure and publicity. Because of the size and scope of the Quidam production in Charlotte and the importance of educating this new market about this nontraditional-type circus, part of the agency's public relations strategy included educational outreach on the creation and background of Cirque du Soleil.
Specific activities included a launch event and press conference, blanket media coverage, a premiere event and VIP party, ticket sales consulting and more. Lyerly successfully secured more than 100 stories and mentions across a three-state region about the show in publications and broadcast in a four-month timeframe. Due to the tremendous public relations success, the show run was extended two weeks to accommodate the exploding local interest and to capitalize on additional profit stimulated by Lyerly's promotional efforts.
With Lyerly's partnership, Cirque enjoyed a 50-to-1 return on its investment. Lyerly repeated this success for Cirque Du Soleil with the Varekai tour and later with the Totem tour. In addition, the term "Totem" was also a top-five tweeted term in Charlotte on premiere night. When Alegria came to visit , the show had the challenge of a five-night run instead of a month-long run, but Lyerly was still able to deliver placements in print, broadcast, blogs and websites, a 37 percent increase in ticket sales, and a 20-to-1 return on its investment.