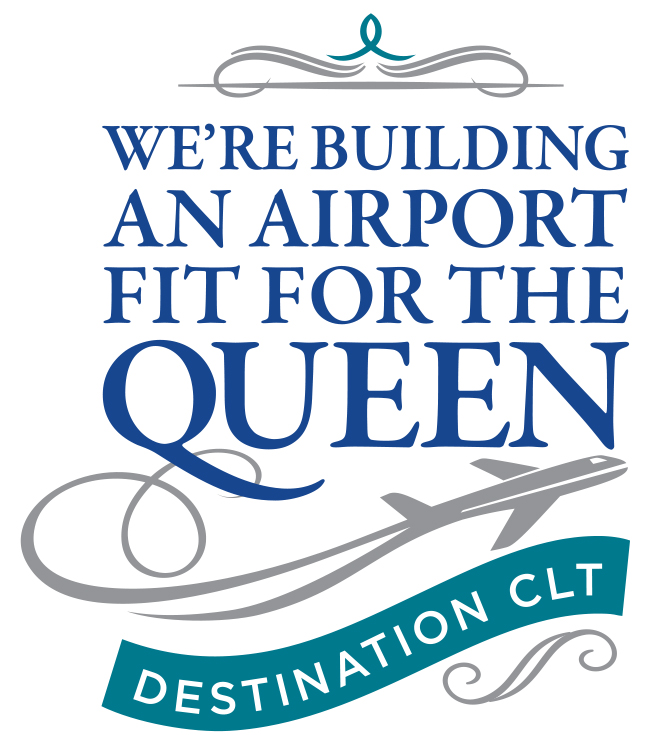 When Charlotte Douglas International Airport (CLT) has needed an agency to assist with everything from its main terminal opening to communications strategy, expansions and community events, it has called on Lyerly Agency for more than 35 years.
Most recently, CLT used Lyerly's expertise as airport construction began and unique branding was desired to capture audience attention. Lyerly created the eye-catching theme and brand "We're Building An Airport Fit For The Queen" to serve as branding for the Destination CLT work at the Airport. This memorable, distinctive approach to communicating ongoing construction was implemented alongside additional creative tactics within the theme. Following initial implementation, CLT returned to Lyerly for more comprehensive work on the project, including long-term communications planning within the theme for advertising, marketing and public relations.
Lyerly also was tapped when CLT received Charlotte City Council approval for the creation of the Airport Area Strategic Development Plan (AASDP). As MXD Development Strategists – based in Vancouver, Canada – was hired to lead the AASDP project, MXD brought Lyerly into the fold per CLT's recommendation. The Lyerly team brought critical stakeholder insight to the plan, organizing and managing various input sessions from area leaders and representatives. Additionally, Lyerly hosted open houses and other feedback opportunities to help shape the final report. Upon completion of the plan, the agency renamed the initiative "Project AMP (Area Master Plan)" and created a brochure for CLT and its audiences that provides an overview of the findings.
CLT also called on Lyerly to develop a solution for the airport's crowded parking lots. Lyerly's answer was the name and brand SmartPark program. A radio media buy combined with value-add sponsorships advertised tips for the parking lot conditions program, cell phone lot and business valet parking. To extend the campaign and reach internet users, Lyerly designed online banner ads to post on a variety of websites.
Several years ago, the Airport asked Lyerly to put together a spectacular event for its Main Terminal 20th Anniversary Celebration in less than a month. Lyerly quickly developed an event strategy, created a theme and planned every last detail, from entertainment to press coverage. The airport staff envisioned a rollicking outdoor party so Lyerly arranged for catering, decorations, and fun, family activities, T-shirts and almost 1,000 invitations crafted around the theme "Still Rockin' After All These Years." The theme reflected CLT's rich history and touched on the popular Southern-style rocking chairs dotting the airport. Rock star look-alikes circulated the crowd at the event, caricature artists and clowns made children squeal with delight, and a DJ spun rock tunes. In addition to planning the special event, Lyerly also produced an award-winning 18-minute commemorative video celebrating the airport's remarkable 65-year history.
Lyerly assisted CLT with its promotion of a new non-stop service to Paris and, with just two days' notice, Lyerly was able to create a Parisian street scene in Concourse D, complete with a 12-foot replica of the Arc de Triomphe as a backdrop for speakers. The event featured a caricature artist, bistro table seating for 150, flower and balloon "street vendors," French-themed hors d'oeuvres and a "menu" of Charlotte Douglas International Airport information for attendees. The event was praised by airport and airline officials and was featured in almost every news outlet in the region.
Lyerly continues to work with CLT, providing communications consulting, strategies and various services as they improve the airport and grow within the Charlotte region.